On November 17, 2017, the New York State Science and Technology Law Center co-hosted the NEXT Conference, focusing on technology, manufacturing and biotech, with the Central New York Biotech Accelerator, CASE, and TDO.  The all-day event included keynotes, workshops, and a technology showcase at the Syracuse University Sheraton.
The morning keynote featured Dave Warner, a medical neuroscientist and director of medical intelligence at MindTel.  His keynote, "Convergent Futures: Cognitive Neuroscience Meets Deep Learning", focused on the Internet of things, quantum computing, perceptual modulation, and experimental interactive systems.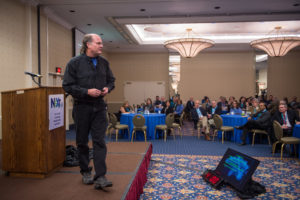 Hod Lipson, author, entrepreneur, and professor of engineering and data science at Columbia University, held the afternoon keynote.  "Artificial Intelligence and the Road Ahead" highlighted advancements in artificial intelligence including robots and driverless cars.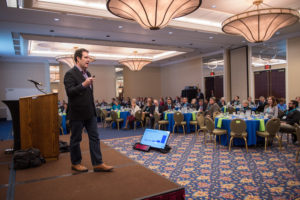 The workshops focused on three tracks: biotech innovation, legal issues in technology commercialization, and manufacturing excellence. The NYS STLC participated in the legal track, moderating three workshops: "Protecting IP: Timing, Validity Challenges, International Decisions", "Papering Up: Agreements in Tech Commercialization", and "Finding the Funds: New Venture Assistance for Innovation and Capitalization".
The morning workshop, "Protecting IP", was moderated by Jack Rudnick with panelists George McQuire, John Boger, and Renato Smith.   They discussed issues like patent filing strategy, decisions about international filings, trade secret protection as an alternative to patenting, and the post grant review options offered under the American Invents Act.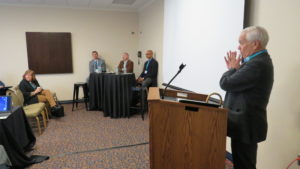 The afternoon workshop, "Papering Up" was moderated by Shubha Ghosh with panelists Steve Wood, Bill Bond, and Judy Albers.  They focused on the documentation of intellectual property such as licenses and other documents key to consider for successful collaborations.
Lastly, the mid-afternoon workshop, "Finding the Funds" featured panelists, Marcie Sonneborn, Rami Katz, Nasir Ali, and Clayton Besch.  They discussed the availability and pitfalls of various types of funding, how funding options can influence the structure of the company, which fund sources have the best long run perspectives, the evolutions of different financing structures and tips on the best approaches for success.