A team of students in the College of Law's Technology Commercialization Law Program (TCLP) spent their summer working with entrepreneurs, startups and inventors to provide information on the legal and regulatory issues involved with bringing new technologies to the market. Students researched intellectual property and market landscapes for over 25 new technologies.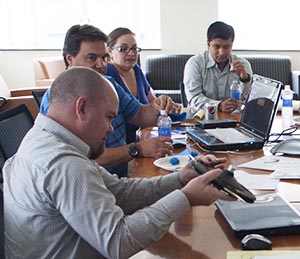 The students, five from the College of Law and one from the Whitman School of Management, worked under the supervision of TCLP and New York State Science and Technology Law Center Director Jack Rudnick, Associate NYS STLC Director Molly Zimmermann and commercialization expert Dean Bell, who recently retired from his position as principal research and development engineer with Welch Allyn.
The commercialization projects included continuing work from projects started in the prior academic year, as well as patent landscapes for companies in the New Energy Xcelerator in Upstate New York (NEXYS-NY) program at High Tech Rochester. NEXUS-NY is sponsored by New York State Energy Research and Development Authority with a goal of facilitating the development of clean energy start-up companies based on the work of New York researchers.
The College of Law has been home to the Technology Commercialization Law Program for 25 years. The program consists of LAW 814, a classroom course on technology transactions law, and LAW 815, an experiential learning course. Until recently, the work done by students in LAW 815 had previously been confined to the academic year.
Rudnick began changing the format of LAW 815 in the 2014 spring semester to provide more research to New York start-ups and broader experience to students. He shifted from three or four large, comprehensive projects to multiple projects that were shorter and more targeted. By the semester's end, students in the class had worked on 30 projects. The extra demand convinced Rudnick it would be worthwhile to offer a similar program through the summer.
"Businesses do not take the summers off," explains Rudnick. "New ideas happen year round and in the startup world that we support it's 24 hours a day, seven days a week. We ran the summer program like a consulting business, tracking hours and efforts. The main focus was client needs and satisfaction, with students working hard to complete projects on time and serve up quality reports."
During the academic year, students in the TCLP take LAW 815 for credit. Students working over the summer were paid hourly wages. Whitman entrepreneurship M.S. candidate Dharmil Sheth '14 found value from the experience beyond the financial compensation.
"Through the summer program, I learned about the latest technologies, researched on some disruptive ideas, assisted with business planning and met people whom I would have never had the chance to meet otherwise," says Sheth.