YEAR IN REVIEW: 2016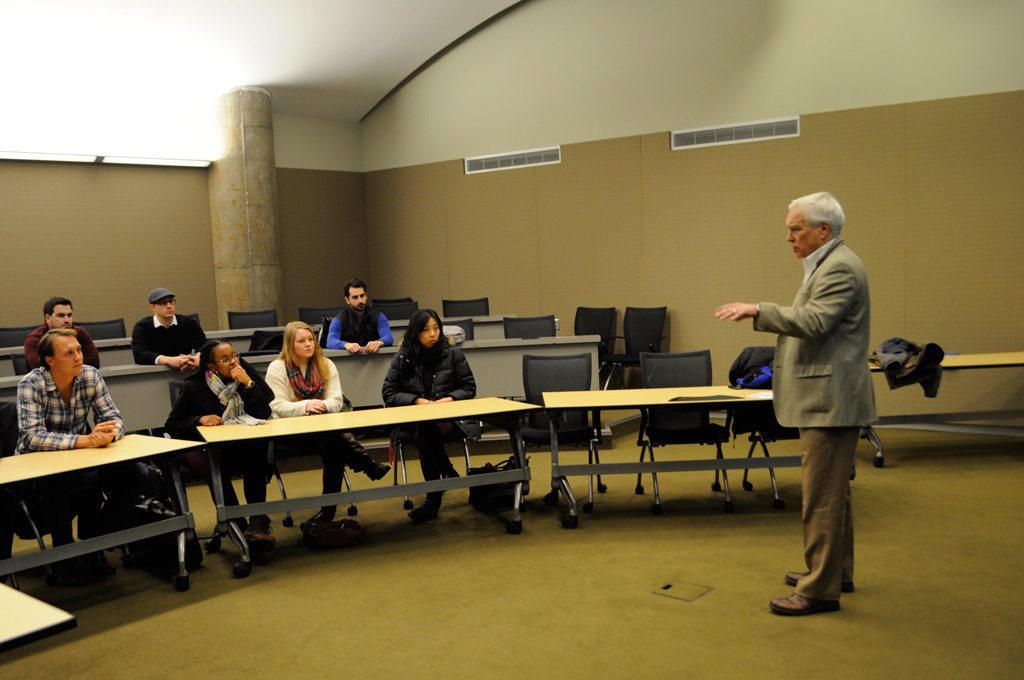 Direction Under Jack Rudnick
Although the Technology Commercialization Law Program (TCLP) has been around for 25 years at the Syracuse University College of Law, the 2013-2014 academic year was the first under the direction of Professor Jack Rudnick.  The program has always consisted of LAW 814, a classroom course on technology transactions law, and LAW 815, an experiential learning course.  The students in LAW 815 have traditionally worked on one of two or three comprehensive client projects each semester.  Under Jack's direction, the spring semester format has shifted to multiple shorter and more targeted projects.  By the semester's end, TCLP students had completed over 20 projects. Along with summer projects, 60 projects were completed by the end of Jack's first full year.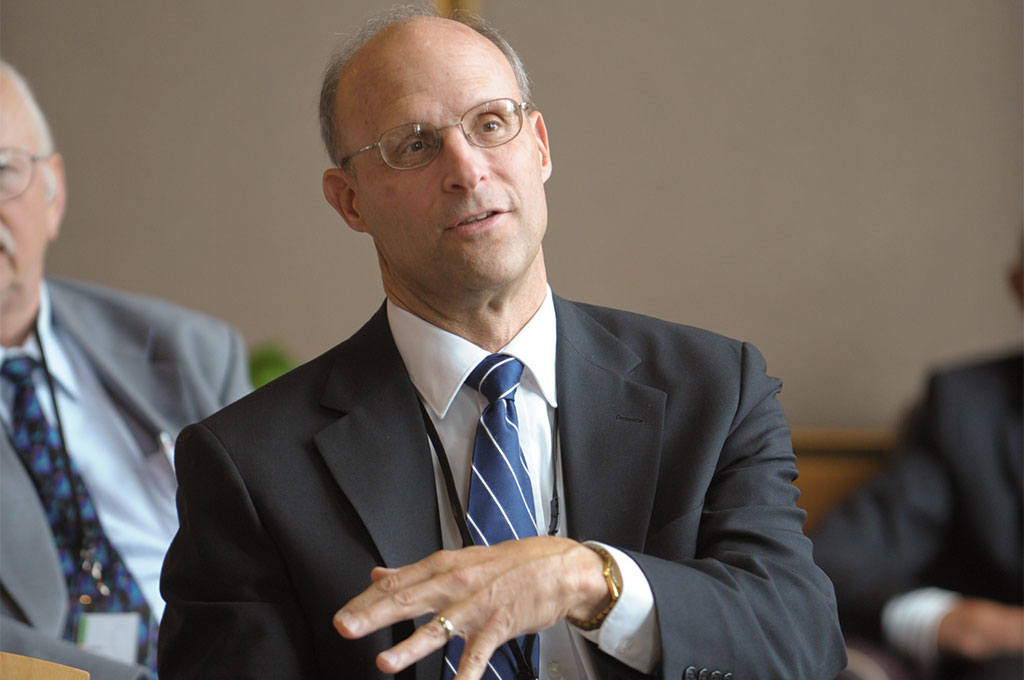 Retirement of Richard Newman
After ten years as an adjunct professor in the TCLP, prolific inventor Rich Newman retired at the end of the 2014 Spring semester.  The end of year TCLP banquet included a celebration of Rich's tenure with the program.  The celebration included appreciation video by students, staff and faculty in the program.  Due to Rich's reputation as a prolific inventor, a personalized, leather-bound lab notebook was the perfect retirement present.  The TCLP continues to miss Rich's insight and dedication.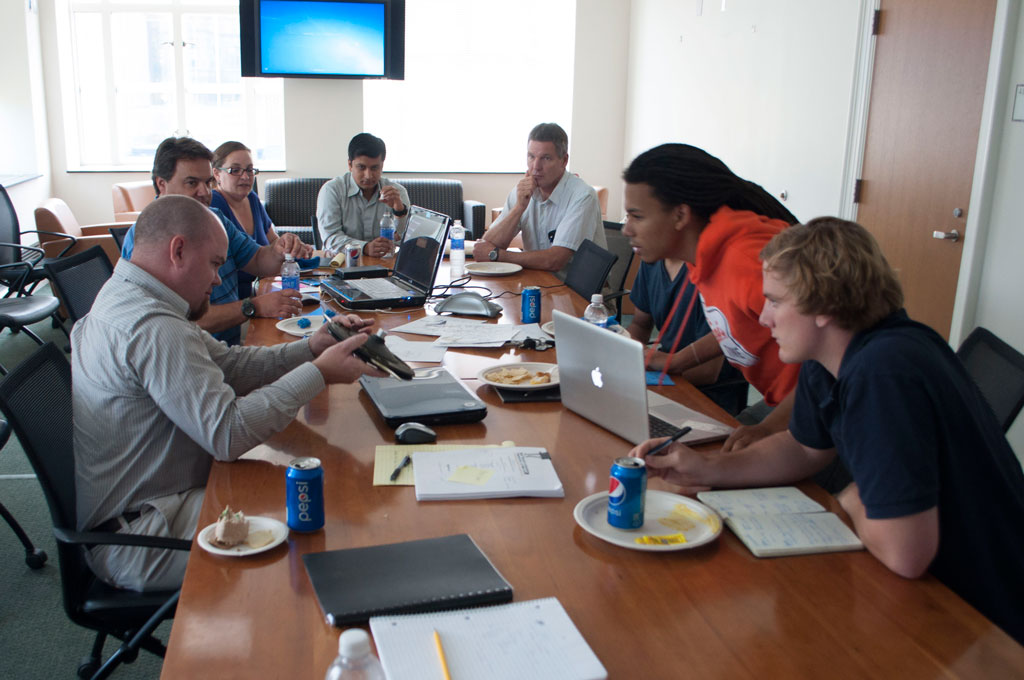 Summer Work
Extra demand and increased interest from clients led the TCLP to create a summer program.  "Businesses do not take the summers off," explains Jack.  "New ideas happen year round and in the startup world that we support it's 24 hours a day, seven days a week. We ran the summer program like a consulting business, tracking hours and efforts. The main focus was client needs and satisfaction, with students working hard to complete projects on time and serve up quality reports."
Continue Reading
The NYS STLC was able to hire five students from the College of Law and one from the Whitman School of Management.  Student employees included J.J. Choi (3L), Luke Finch (3L), Garin Murphy (3L), Erin Phillips (3L), Anu Kinhal (2L), and Dharmil Sheth (M.S. Entrepreneurship '14).  During the academic year, students in the TCLP take LAW 815 for credit.  But, during the summer, students were paid hourly wages.  The students worked on a variety of technology-based projects including biological diagnostic equipment, energy related technologies and to smartphone applications.Two of the rising 3L students, Garin Murphy and Erin Phillips, provided a presentation to smartphone application developers at Upstate Venture Connect in downtown Syracuse.  They discussed the services that the NYS STLC provides and gave some insight on the smartphone app market and intellectual property concerns for software.  Interacting with local businesses all year, including the summer, has extended the NYS STLC network.
Introduction: Adjunct Professors
The TCLP welcomed three new adjunct professors Dean Bell, Dominick Danna and Chris Horacek.  Both adjuncts lead student teams for LAW 815. Dean Bell has over 40 years of experience in the development of product and process technology at Welch Allyn, Inc.  His educational background includes a B.S. in industrial and manufacturing engineering and a M.S. in engineering administration from Syracuse University.
Continue reading
He began working at Welch Allyn in 1973 and retired in 2014.  Throughout his tenure, he was involved in medical lamp applications.  He made significant contributions to clinical and analytical spectroscopy, endoscopy, colorimetry, commercial aircraft lighting, and portable law enforcement lighting.  He has been awarded nine U.S. patents and has three pending patent applications. Rich Newman introduced Dean to the program and he began working as an adjunct professor last summer.
Dominick Danna is an electrical engineer with over 35 years of experience in the research and development of new technologies at the medical device company, Welch Allyn, Inc. He has a bachelor's degree in chemistry and bachelor's degree in electrical engineering from Syracuse University. Most of his new product design focused on medical imaging and video devices. He retired from Welch Allyn in 2007 after spending four years as the director of applied clinical research. He has been awarded 36 patents was the recipient of the Design News Special Achievement Award in 1993 and the American Society of Mechanical Engineers (ASME) Holley Medal in 1994. Danna began working with the New York State Science & Technology Law Center in the summer of 2015.
Chris Horacek holds a J.D. from the University of Nebraska College of Law. Prior to joining the NYS STLC, Horacek served as VP Deputy General Counsel for medical device company, Welch Allyn Inc., in Skaneatelas Falls, New York. For over 18 years, he provided corporate legal services in various areas of the company as well as managing corporate training functions for compliance related matters. His areas of expertise include business transactions, intellectual property identification and protection, compliance, and mergers and acquisitions.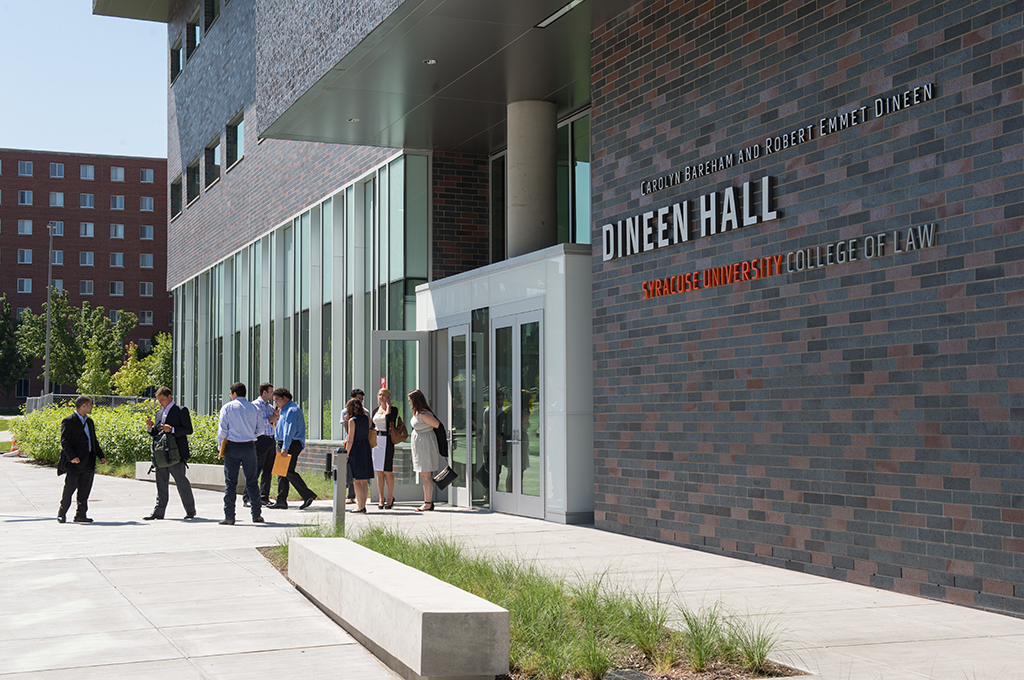 New Facilities
In April 2010, Robert Dineen (L'66) informed Dean Hannah Arterian that his family would be gifting the College of Law with $15 million for a new, state-of-the-art law school.  With the generosity of the Dineen family and the contributions of many others, the $90 million Dineen Hall opened this fall on the Syracuse University campus after two years of construction.  The building is 200,000 square-feet with fireplaces, gigantic windows to maximize natural light, and numerous other environmental friendly features.
Continue reading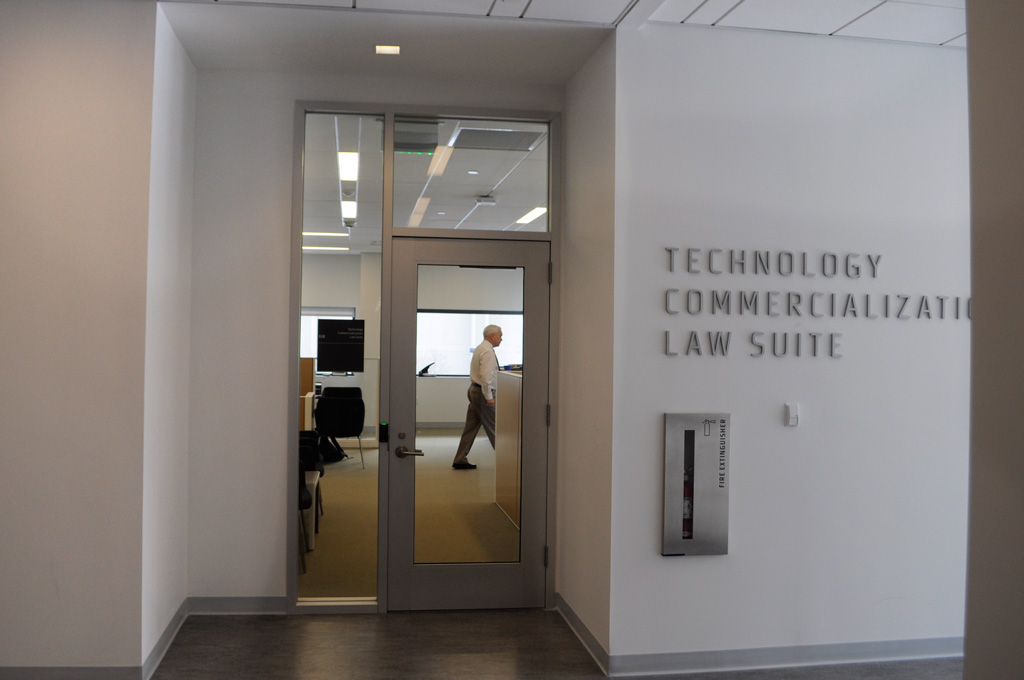 The TCLP/NYS STLC received its own high-tech suite (Technology Commercialization Law Suite Room 310).  The suite consists of the director's office (provided by support from Edward Baba L'03), an adjunct office, work spaces, and a wide-open space with a conference table and numerous computers for students to work between classes and facilitate meetings.  The suite is attached to a shared state-of-the-art video conference room.  The video conference room contains a 90" plasma screen, two smaller display screens, speakers, and seating for approximately 25 people.  In addition to the suite, Dineen Hall also contains a lecture hall was named after Founding Director Ted Hagelin. TCLP alumnus, Dr. Thomas Murphy L'93 provided the donation to name the Hagelin Lecture Hall (Room 442) where the TCLP courses, LAW 814 and LAW 815, are held.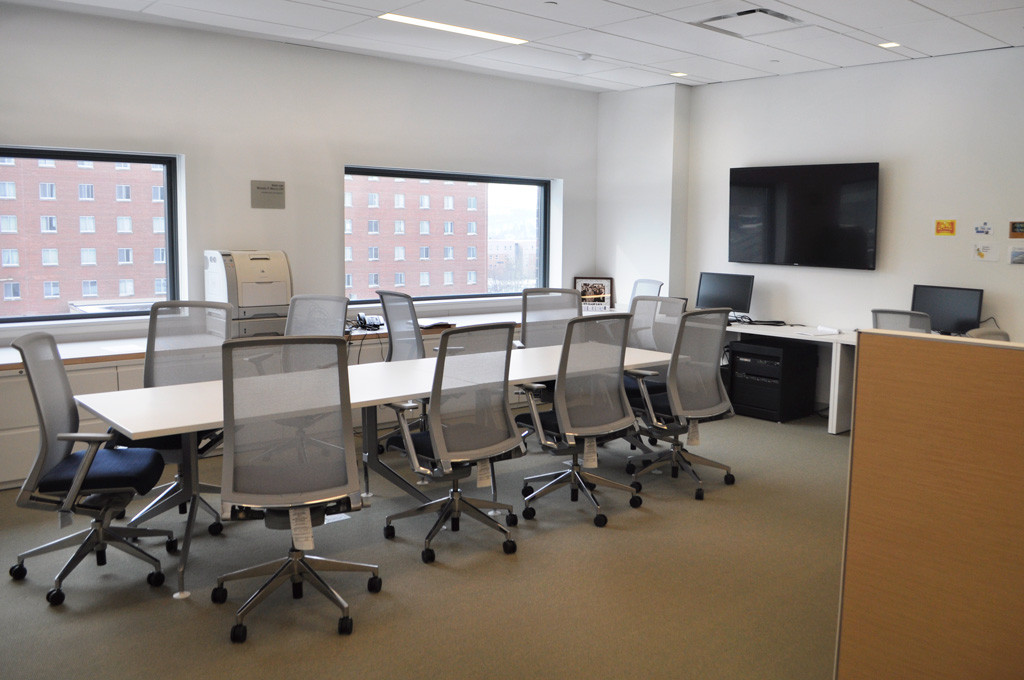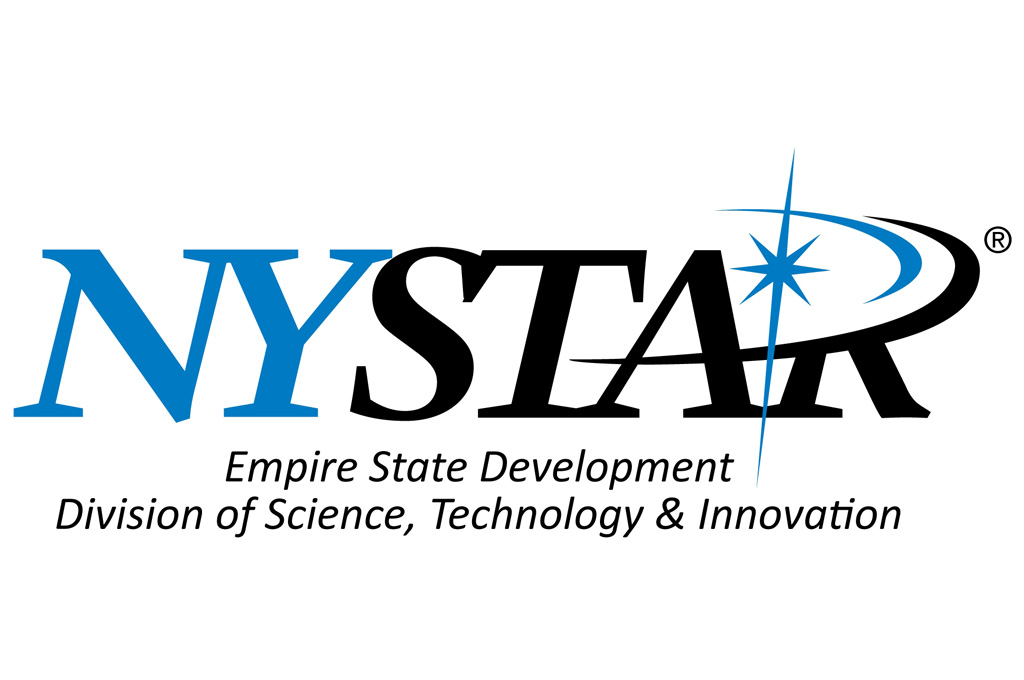 Re-Designation as New York State Science & Technology Law Center for 4th Time
In August 2004, Empire State Development's Division of Science, Technology, and Innovation (NYSTAR) recognized the community economic impact and contributions of the Technology Commercialization Law Program Ted Hagelin had established and designated Syracuse University College of Law as the New York State Science & Technology Law Center (NYS STLC).  The College of Law proceeded to be awarded this designation again in 2007 and 2011. This fall, Empire State Development issued a request for proposals and we applied for a fourth designation as the NYS STLC.  Jack was recently advised that the designation would be awarded to the TCLP for a fourth time.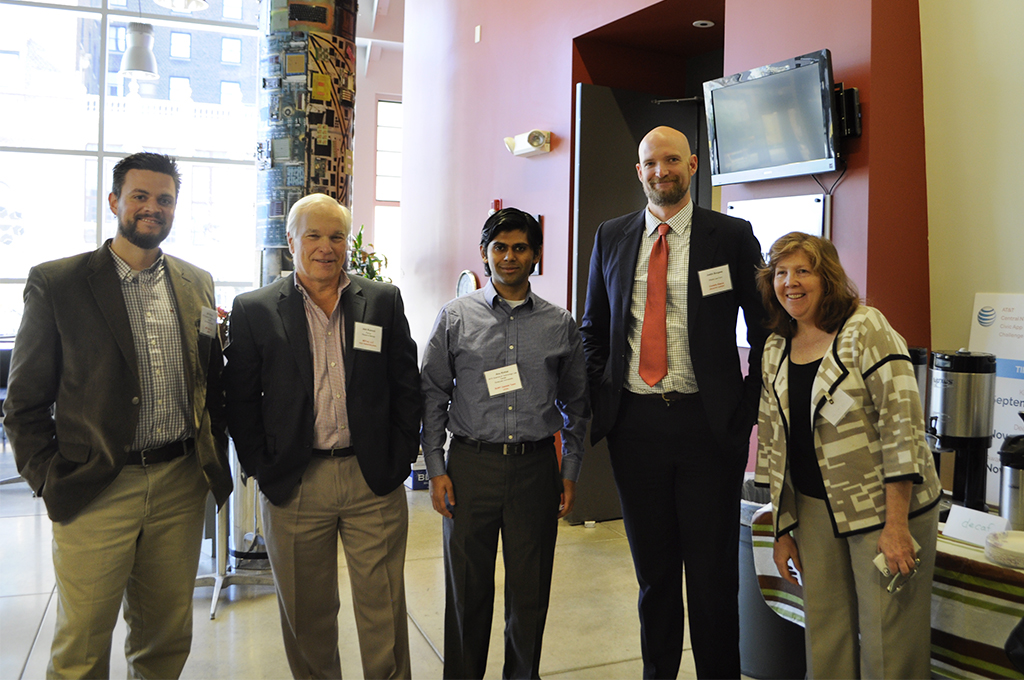 Pre-Seed Workshops
Pre-Seed Workshops were established by Judy Albers and Mark Wilson as "an efficient way to give a large number of high tech ideas a solid entree into the pre-seed stage (and vet ideas that possibly shouldn't go forward)." They offer two full days of sessions designed to quickly assess new technologies, identify market opportunities, and develop a commercialization strategy.  Each inventor or "Idea Champion," is assigned to a team who has expertise in patent law, business management, product development, and other technology commercialization areas.  Each team is also assigned a coach to facilitate the sessions and keep the team on track.  The first day usually includes many short breakout sessions and initial planning.  The second day, a week later, consists of a final meeting and presentations to investors.
Continue Reading
Last February, Director Jack Rudnick and Associate Director Molly Zimmermann brought students to a workshop at Binghamton. In May, they traveled with three students to a Buffalo Pre-Seed Workshop. Students attend the breakout sessions and provid patent landscapes on the various technologies.  This October, six TCLP students participated in a Pre-Seed Workshop at the Technology Garden in downtown Syracuse, and TCLP students and staff will also be participating in Pre-Seed Workshops in Ithaca and Buffalo this spring.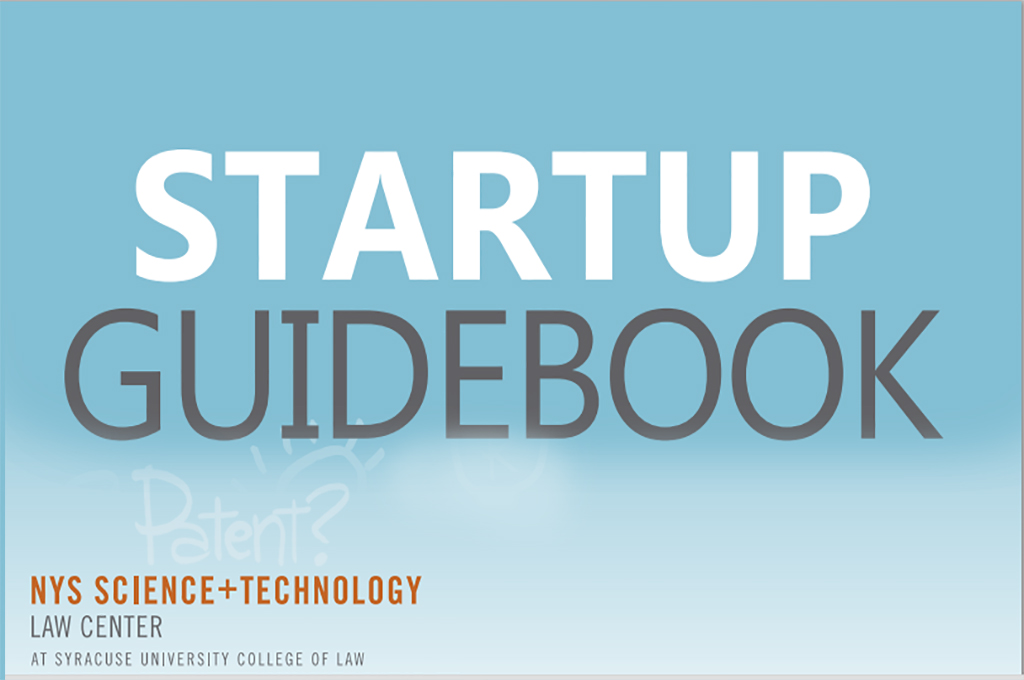 Publication: Startup Guidebook
In Spring 2014, as part of an assignment for TCLP course LAW 815, students Brian Becker (3L) and Erin Phillips (3L), under the guidance of Senior Research Assistant Justin Burgess (L'14), authored a "Startup Guidebook."  The Guidebook is intended to assist individuals in forming and growing a business based on new technology.  Founders of technology start-ups are usually the inventors, who notoriously focus on the research and development of their product overlook important early business issues crucial to a successful venture.
Continue reading
The Startup Guidebook includes a "Founders' Memorandum of Understanding for Starting a Business" (MOU), which is a checklist of initial business concerns that, if addressed, will aid in the construction of a founders' agreement.  The MOU also provides explanations as to why these listed issues are important and suggested ways to resolve them.  Another section, the "Founders' Agreement Format and Guide", includes a sample founders' agreement and notes that provide explanations for the clauses used in the sample agreement.  Many of the resolutions to the issues listed in the MOU can be easily transferred into the sample founders' agreement.  A "Startup Checklist" lists things to do when starting a business, such as forming a business plan, registering a "Doing Business As" name, registering for taxes, and opening bank accounts.  The Guidebook concludes with a list of do's and don'ts for writing a business plan.  The Guidebook is being distributed to various NYSTAR incubators and Empire State Development offices and is a popular handout at Pre-Seed Workshops and start-up events.