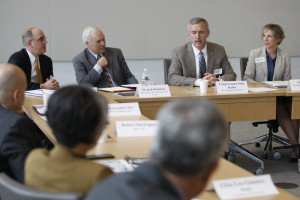 The College of Law's Technology Commercialization Law Program (TCLP) recently co-hosted the Business Roundtable Discussion on the Importance of Intellectual Property to Innovation, Creativity and Jobs. The event was held in conjunction with the New York State Science & Technology Law Center (NYSSTLC) and the U.S. Chamber of Commerce, Global Intellectual Property Center.
The Roundtable featured special guest Congressman John Katko L'88 and was moderated by Lisa Dolak, Angela S. Cooney Professor of Law and senior vice president, Syracuse University Secretary. Representatives from 11 Central New York businesses and organizations discussed the growing importance of intellectual property and its relevance to driving innovation and economic development.
The business leader participants noted that as patents, trade secrets, copyrights and trademarks are infringed upon, it negatively impacts how businesses operate, particularly smaller companies.
"Central New York has a great history of innovation and the ideas keep coming. The companies and institutions here today are just a sampling of the intelligent technology being created in our region," said M. Jack Rudnick, director of the TCLP and NYSSTLC. "These companies need and deserve the legal protection afforded by our patent and trademark laws and the consumer as well."