Brian J. Gerling L'99 Reflects on Learning IP Law Under Ted Hagelin, And Why He Returned to Teach at His Alma Mater
By Meredith Wallen
Every semester, College of Law students in the Innovation Law Center (ILC) benefit from the extensive expertise and broad experience of practitioners who supervise student research projects for real-world clients.
Often those practitioners are drawn from the ranks of alumni who have graduated from the College's preeminent technology commercialization and intellectual property (IP) law program. One such adjunct professor is Brian Gerling L'99, Senior Counsel for Bond, Schoeneck & King PLLC (BSK).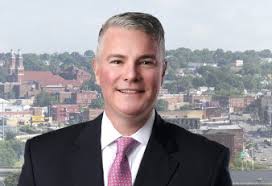 "I found it fascinating"
At BSK, Gerling's practice focuses on intellectual property, data privacy, cybersecurity, and economic development in the beverage, environmental, and plastics industries. He also is engaged with the autonomous systems industry, serving as legal advisor to local unmanned aerial vehicle businesses.
As an adjunct professor, Gerling oversees one of ILC's experiential learning practicums, working with students, as well as ILC clients, to research the technical, legal, and business aspects involved in bringing new technologies to market.
When asked when he first became interested in technology, Gerling says, "Even as a kid, I was curious how or why things worked. Whether it was electricity or the human body, I found it fascinating, and that's what led me down the path to a degree in biology."
During that process, Gerling studied medical and laboratory processes and equipment, which are often the result of innovative technological advancements. While studying for his undergraduate degree, he "discovered that I could marry my passion for biotechnology and the law, and that's what brought me to Syracuse to focus on IP law."
"A true gentleman"
Gerling's reason for giving back to his alma mater—and specifically the Innovation Law Center—primarily came from wanting to settle back in Central New York, after living away from the area after graduation. In addition to his local roots, Gerling's experience learning technology law under the late Professor Ted Hagelin makes Gerling an important asset for any student wanting a career path in this growing area of law.
While at the College of Law, Gerling says that he got to know Professor Hagelin through classes and by editing the Syracuse Journal of Science and Technology Law, and he marveled at not only Hagelin's brilliant mind but also his character ("a true gentleman," says Gerling).
"Professor Hagelin started the Technology Law Commercialization Program, the precursor to ILC, and he just left an indelible impression on me," says Gerling. "I learned from him about navigating through legal issues, and even more about life. I have used the principles I learned while at the College of Law throughout my career."
After a year or so back in Central New York, Gerling says he met ILC Director M. Jack Rudnick through local business circles. "After meeting Jack a couple of times, I thought to myself he was very much like Ted, a sharp legal mind and just a true gentleman," says Gerling. "I then learned that he was running Professor Hagelin's program. I discussed the ILC with Jack and ways that I could get involved, and here we are."
"Really neat technologies"
When asked about his favorite part of joining the ILC team, Gerling says that his colleagues at the ILC are all accomplished, and it is just a joy to work with them. But he says his favorite part hands-down is working with the students. "Their intelligence and eagerness to learn is kinetic. It is just a different vibe and energy from working with—or against—other attorneys," observes Gerling. "I look forward to class each week, and I enjoy and appreciate their perspectives on life and society. That is inspirational because it challenges me to be a more rounded educator and person."
Gerling says the companies that he and his students have worked on recently include technologies ranging from protecting energy grids, to biosensor masks, to unmanned aerial systems operations, "so the students have been exposed to a wide spectrum of really neat technologies."
As far as adjustments due to COVID-19, Gerling's team has had to navigate the challenges associated with a hybrid learning environment, but this format worked well in Gerling's view. That success in this trying time, he attests, is a testament to not only to College and University leadership but also to the students.
Gerling's advice to law students interested in innovation law is to give Law 815—the Innovation Law Practicum—a try. Primarily an applied learning course, the six-credit practicum is offered consecutively in the fall and spring. Interested students can learn more about the course at this webpage.