By Julia Scaglione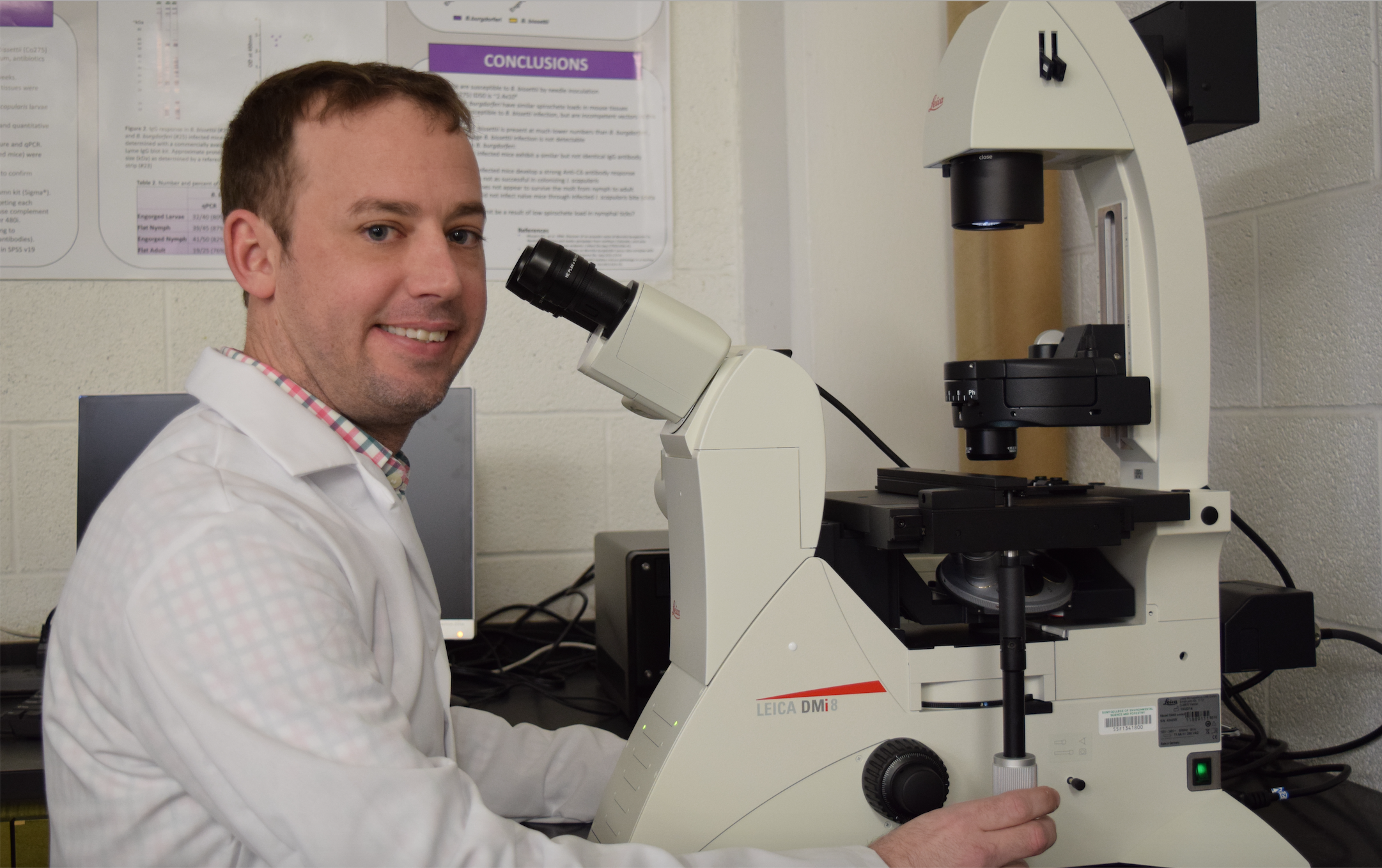 The world measures 510 million square kilometers in surface area. Think about how small you are on that scale. Now, think about something—an arachnid—even smaller, around 10 millimeters at biggest. One would assume that such a small speck couldn't possibly have an impact on our massive planet. Unfortunately, that isn't the case, as those specks are wreaking havoc around the globe. That 10-millimeter creature is a tick, and as of 2019, the threat of ticks spreading diseases to humans is rapidly increasing.
However, one scientist is working to uncover technology that will stop the threat and change the way ticks impact humanity. Meet Brian Leydet.
Leydet began researching tick-borne diseases as a master of public health student at the University of North Florida. He continued his advanced studies as a doctoral student at Louisiana State University's (LSU) School of Veterinary Medicine. Upon completing the doctoral  degree, he continued to study at both the Trudeau Institute in Saranac Lake, NY, and Southern Research in Birmingham, AL. Now, Leydet teaches and runs his own lab at SUNY College of Environmental Science and Forestry (SUNY-ESF), collaborating with fellow researchers, students, and faculty to develop his tick technology—a necessary project as the threat of diseased ticks spreads.
According to the Centers for Disease Control and Prevention (CDC), the total number of tick-borne disease cases in the United States has nearly tripled since 2004, an unsurprising trend as climate change allows for ticks to thrive in new environments. Ticks spread both familiar and emerging bacterial, viral, and protozoan diseases—such as typhus, Lyme disease, Q fever, and Rocky Mountain Spotted Fever—and, in the case of the lone star tick, they can even cause an allergy to red meat, called alpha-gal syndrome.
Upon first glance, one may think that ticks can be taken out using pesticides or repellents; however, those treatments are often not effective. Allison Burrows, a student at Syracuse University College of Law's Innovation Law Center, working with Leydet, explains that "we have products that kill and repel ticks, but they don't do a very good job at it and many are poisonous to the environment." Leydet adds that, "the ones that kill ticks create genetic resistance, rendering them unusable in the future."
The combination of a growing problem and lack of a solution led Leydet to his current research: developing technology to standardize the testing and identification of new chemicals to create effective types of tick repellants. Leydet believes that the technology will enable him to identify behavior-modifying chemicals that will not kill the ticks or create genetic resistance, but rather keep them off of humans. "Not only will this technology combat the increasing diseases in humans, but it will also protect ecosystems from harmful sprays and toxins," says Leydet.
As there has been no advances in combating ticks in the past few decades, Leydet's work is the first of its kind, and thus he is collaborating with faculty and students at the New York State Science and Technology Law Center—housed in the Innovation Law Center—to patent his work. The students are currently working on a variety of projects for Leydet, including developing IP and market landscapes and identifying regulatory implications. Additionally, the students are helping Leydet explore patentability for both his innovative tick repellant technology and the theory behind it. The overall work will help identify whether the technology is marketable, which in turn will determine what path the researcher will take in the future.
Looking forward, Leydet believes that his work has the potential to effect change and save lives. In the meantime, he'll continue to gather ticks in the coming months to conduct the essential tests for the technology. "Theoretically and logically, the technology should work," Leydet states. "But science can always throw you a curve ball," he adds with a laugh.
Overall, Leydet says he wants to better our world by helping people and the environment. With the path he's on now, there's no doubt that he'll do just that. So, keep an eye on those CDC reports of tick-borne illnesses, as in the coming years—if things go right for Leydet and his new technology—a great decrease is expected.